Hardwood Floor Installation in Ellenwood
Limited Offer:
15% OFF
For First Time Service
(470) 705-6478
Hardwood Floor Installation in Ellenwood
Limited Offer:
15% OFF
For First Time Service
(470) 705-6478
Transform Your Home with Stunning Hardwood Flooring in Ellenwood
At David's Hardwood Flooring, we take immense pride in providing the residents of Ellenwood with exceptional hardwood floor installation services. Our skilled team of artisans is dedicated to enhancing the beauty and functionality of your home, transforming it into an elegant sanctuary that reflects your unique taste and style. We understand that each hardwood floor is a work of art, and our commitment to delivering high-quality installations has earned us a reputation as the go-to choice for homeowners in Ellenwood and the surrounding communities. With an array of stunning hardwood options, ranging from classic oak to exotic teak, our expertly crafted floors will not only elevate your home's aesthetic but also stand the test of time, ensuring you can cherish your investment for years to come.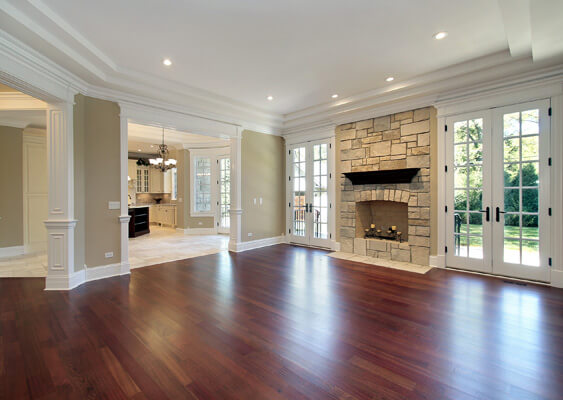 Experience hassle-free installation or repair of your floor coverings
At David's Hardwood Flooring, we believe in fostering a transparent and collaborative relationship with our clients throughout the entire installation process. From the moment you reach out to us, our knowledgeable staff will work closely with you to carefully assess your needs and guide you in selecting the perfect hardwood species and finish to suit your home's architecture and décor. Once the groundwork is laid, our highly skilled installers will meticulously install your hardwood floors, employing advanced techniques and state-of-the-art equipment to ensure precision and longevity. With a keen eye for detail and an unwavering commitment to excellence, David's Hardwood Flooring is poised to make your hardwood flooring dreams a reality in Ellenwood.
Schedule a FREE Onsite Consultation
Key considerations for your hardwood floor installation, refinishing, and repair needs in Ellenwood
Q. What Quality Assurance measures do you have in place?
In the more than a decade which we've been at the leading edge of the solid and engineered wood industry, we've found the best way to give you the peace of mind you're looking for is to:
Make sure all staff are highly experienced and qualified
Ensure that team members are bonded and insured too
Provide a full one-year guarantee with all services as standard
Q. What's the way to get the best deal?
In all cases, we'll work with you to create the most budget-friendly approach whenever this is a concern. Plus:
You can take advantage of our introductory offer of 15% off if you're a first-time user of our hardwood floor installation, repair or refinishing services in Sandy Springs. We also offer money off – in this case, 20% – when you book our professional carpet cleaning services at the same time.
Q. What other types of floor covering do you fit?
As well as hardwoods and carpeting, you can also make use of our skills in vinyl, laminate and epoxy flooring installation. We work with the ranges of all of the leading manufacturers and suppliers in the industry.
How to book?
Four Easy Steps
Contact Us
We will schedule your on-site quote when it is convenient for you and least disruptive to your schedule!
Onsite Visit
We present you the quote, after our specialist visit your place
Start
We can start a service within 24 to 48 hours after presenting the quote!
Guarantee
1 year full guarantee for our services!
David's Hardwood Flooring in Ellenwood
David's Hardwood Flooring
Address: 558 Spalding Dr Sandy Springs, GA 30328
Phone: (470) 705-6478
Mon-Sun: 8:00 am – 8:00 pm
Schedule a FREE Onsite Consultation