Restore Your Floors' Beauty with Professional Hardwood Floor Repair in Ellenwood
At David's Hardwood Flooring, we're proud to be the leading hardwood floor repair specialists in Ellenwood and the surrounding areas. Our team of skilled professionals is dedicated to restoring the beauty and functionality of your hardwood floors, so you can enjoy their timeless elegance for years to come. We understand that hardwood floors are an investment in your home, and we're here to ensure they stand the test of time. From minor scratches to extensive water damage, our experienced technicians have the tools and expertise to handle all types of repairs with precision and care.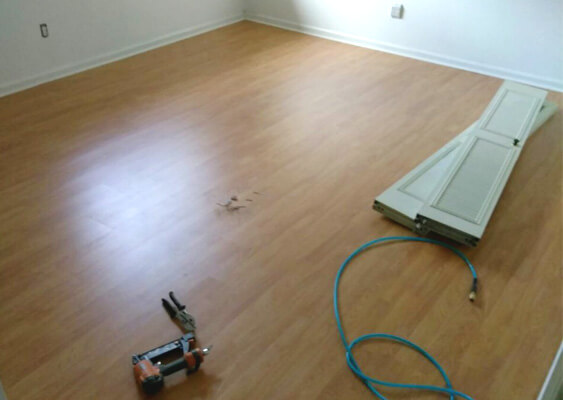 Over the years, your hardwood floors are subject to wear and tear that can detract from their stunning appearance. This is where the expert team at David's Hardwood Flooring steps in to bring your floors back to life. We use a comprehensive approach, which includes assessing the damage, carefully removing any damaged boards, and expertly replacing them with matching hardwood. Our team then sands and refinishes the area, blending the repair seamlessly with the rest of the floor. Our meticulous attention to detail ensures that your floors will look as good as new once our work is complete.
Here at David's Hardwood Flooring, we pride ourselves on our commitment to using environmentally friendly products and practices. Our repair process is designed to minimize waste and conserve natural resources. When we replace damaged boards, we make every effort to source hardwood from sustainable sources, and our finishing products are low in volatile organic compounds (VOCs), ensuring a healthier indoor environment for you and your family. Our commitment to the environment doesn't stop there; we also recycle or repurpose any waste materials generated during the repair process.
Schedule a FREE Onsite Consultation
Customer satisfaction is at the heart of everything we do at David's Hardwood Flooring. Our team will work closely with you throughout the repair process to ensure that your specific needs and preferences are met. We're not happy until you're completely satisfied with the results. With our competitive pricing, prompt service, and exceptional craftsmanship, we're confident that we'll exceed your expectations. If you're in need of hardwood floor repair in Ellenwood, don't hesitate to reach out to us for a free, no-obligation consultation. Let us help you preserve the beauty of your hardwood floors for generations to enjoy.
How to book?
Four Easy Steps
Contact Us
We will schedule your on-site quote when it is convenient for you and least disruptive to your schedule!
Onsite Visit
We present you the quote, after our specialist visit your place
Start
We can start a service within 24 to 48 hours after presenting the quote!
Guarantee
1 year full guarantee for our services!
Schedule a FREE Onsite Consultation