Expert Hardwood Floor Refinishing Services in Ellenwood
At David's Hardwood Flooring, we take immense pride in our hardwood floor refinishing services in Ellenwood, turning your worn-out or outdated floors into gleaming masterpieces that bring warmth and elegance to your home. Our expert team has been passionately restoring and transforming hardwood floors in the area for years, utilizing our extensive knowledge and state-of-the-art equipment to ensure that each project is executed with precision, care, and attention to detail. We believe that a beautifully refinished hardwood floor not only enhances the visual appeal of your living space but also increases the overall value of your property.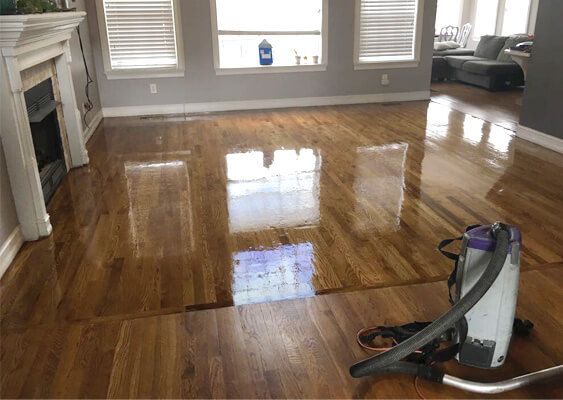 Our hardwood floor refinishing process begins with a thorough assessment of your flooring needs. Whether your floors have seen years of wear and tear or have been hidden beneath the carpet for decades, we take the time to understand your specific requirements and expectations. We then employ our dustless sanding system, which helps protect your home from any excess dust and debris during the refinishing process. This advanced technology not only ensures a clean and healthy environment for you and your family but also delivers a smooth and even finish, ready for the next stage of the transformation.
Once your floors have been expertly sanded, our skilled technicians apply a high-quality stain of your choosing, which breathes new life into the wood and highlights its natural beauty. With a wide variety of stains and finishes available, we'll guide you in selecting the perfect option that not only complements your home's décor but also reflects your unique personality and style. To ensure long-lasting durability and protection, we finish the process by applying a high-quality sealant, providing a stunning, low-maintenance surface that will stand the test of time.
Schedule a FREE Onsite Consultation
At David's Hardwood Flooring, customer satisfaction is our top priority, which is why we work diligently to exceed your expectations and deliver exceptional results every time. We believe that our commitment to quality workmanship, personalized service and affordable pricing set us apart from our competitors in the Ellenwood area. So, if you're ready to revitalize your hardwood floors and transform your home, contact us today for a free, no-obligation consultation, and let our team of dedicated professionals bring your vision to life.
How to book?
Four Easy Steps
Contact Us
We will schedule your on-site quote when it is convenient for you and least disruptive to your schedule!
Onsite Visit
We present you the quote, after our specialist visit your place
Start
We can start a service within 24 to 48 hours after presenting the quote!
Guarantee
1 year full guarantee for our services!
Schedule a FREE Onsite Consultation