Professional Hardwood Floor Repair in Woodstock – Restore Your Floors to Their Former Glory
Homeowners in Woodstock can rely on David's Hardwood Flooring for exceptional hardwood floor repair services that cater to their unique needs. Our team, proficient in a diverse array of home improvement endeavors, is passionate about restoring the elegance and durability of your hardwood floors. We understand that your floors are an essential part of your home's overall aesthetic and functionality, and we focus on delivering a seamless experience and achieving the utmost satisfaction for our valued clients.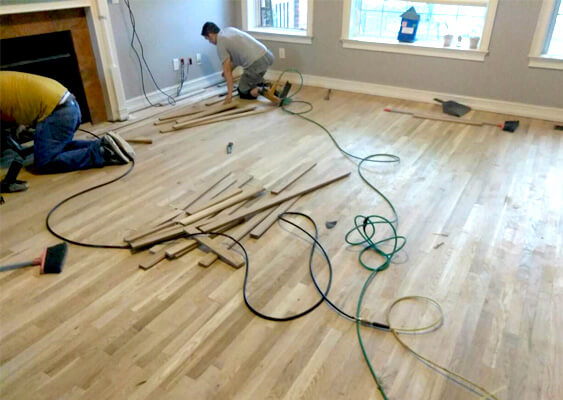 Woodstock residents can trust our comprehensive hardwood floor repair solutions, which are customized to address individual needs and preferences. We begin by conducting a detailed assessment of your hardwood floors, identifying the primary concerns such as scratches, water damage, loose planks, or uneven surfaces. This thorough evaluation allows us to create a tailored repair plan that effectively restores the beauty and functionality of your floors, ensuring that they remain a source of pride and enjoyment for years to come.
Our team of hardwood floor repair specialists in Woodstock is committed to upholding the highest standards of craftsmanship and professionalism. By employing advanced techniques and top-quality materials, we ensure that your hardwood floors are skillfully repaired and restored to their original state. Furthermore, we remain up-to-date with industry trends and innovations to guarantee that our services are always on the cutting edge, providing you with the best possible solutions for your flooring needs.
Schedule a FREE Onsite Consultation
For outstanding hardwood floor repair services in Woodstock, choose David's Hardwood Flooring. Get in touch with us at (470) 481-0367 to discuss your hardwood floor repair needs and explore our wide range of home improvement services. Our dedicated team is ready to offer expert advice and guidance, ensuring that you receive the best possible solution for your hardwood floor repairs. Experience the exceptional level of service and customer satisfaction that sets our company apart in the industry and trust us to deliver results that stand the test of time.
How to book?
Four Easy Steps
Contact Us
We will schedule your on-site quote when it is convenient for you and least disruptive to your schedule!
Onsite Visit
We present you the quote, after our specialist visit your place
Start
We can start a service within 24 to 48 hours after presenting the quote!
Guarantee
1 year full guarantee for our services!
Schedule a FREE Onsite Consultation