Breathe New Life into Your Wood Flooring in Kennesaw
David's Hardwood Flooring is the trusted choice for homeowners in Kennesaw looking for exceptional hardwood floor repair services. Our skilled professionals possess the knowledge and expertise required to address various types of hardwood flooring issues, from minor scratches and dents to more extensive damage caused by water or wear and tear. With our help, you can restore the beauty and functionality of your hardwood floors, ensuring they continue to enhance your home for years to come.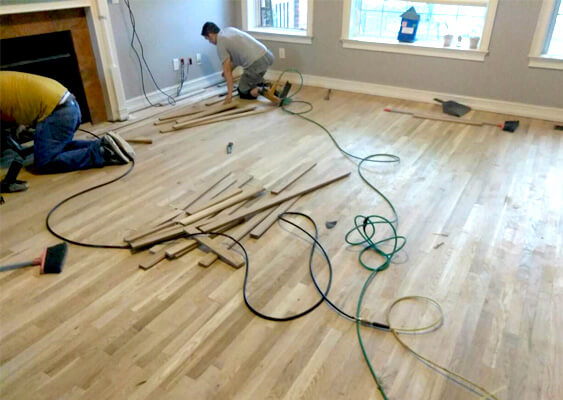 We understand that your hardwood floors are an investment and a significant aspect of your home's aesthetics. That's why we take the time to carefully assess the extent of the damage and determine the most appropriate repair techniques. By employing customized solutions that cater to the specific needs of your hardwood floors, we ensure that the repaired areas blend seamlessly with the rest of the flooring, enhancing its overall appearance and durability.
Our team at David's Hardwood Flooring is committed to providing the highest level of workmanship and professionalism when it comes to hardwood floor repair. We use top-quality materials and industry-leading techniques to deliver results that not only meet but exceed your expectations. Our technicians pay attention to every detail and work diligently to complete the project efficiently while minimizing any disruption to your daily life.
Schedule a FREE Onsite Consultation
When you choose David's Hardwood Flooring for your hardwood floor repair needs in Kennesaw, you can expect outstanding service and customer satisfaction. Contact us at (470) 705-6478 to discuss your hardwood flooring concerns and discover the comprehensive range of home improvement services we offer. Our dedicated team is ready to provide expert guidance and tailored solutions to ensure the best possible results for your hardwood flooring. Experience the difference of working with a company that genuinely cares about the quality and longevity of your home's floors.
How to book?
Four Easy Steps
Contact Us
We will schedule your on-site quote when it is convenient for you and least disruptive to your schedule!
Onsite Visit
We present you the quote, after our specialist visit your place
Start
We can start a service within 24 to 48 hours after presenting the quote!
Guarantee
1 year full guarantee for our services!
Schedule a FREE Onsite Consultation