Unveiling the Magic of Hardwood Floor Refinishing in Tucker
Are your hardwood floors looking a little worse for wear? Are the once vibrant grains now hidden beneath years of wear and tear? If so, don't despair. There's no need to consider a complete floor replacement just yet. Instead, allow us to introduce the transformative magic of hardwood floor refinishing, particularly how we execute it here in Tucker.
Hardwood floors are beautiful, durable, and timeless, but like everything else, they need a little love and care to keep their charm alive. Refinishing is a cost-effective and environmentally-friendly way to restore the natural beauty of your hardwood floors, and when it's done correctly, it can make your floors look as good as new.
At David's Hardwood Flooring, we offer top-notch hardwood floor refinishing services in Tucker. Our process is designed to restore the natural beauty of your floors while minimizing dust and disruption in your home. We use the latest equipment and techniques, and our team is trained to the highest standards, so you can be confident in the quality of our work.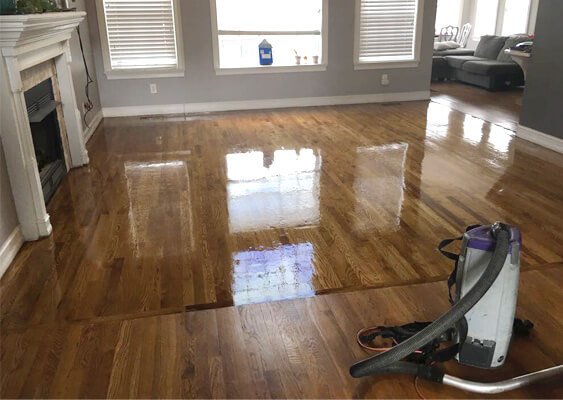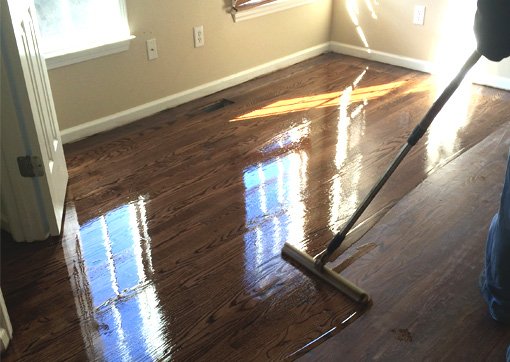 Our process starts with a thorough evaluation of your floor's current state. We look for deep scratches, grooves, and areas where the wood may have been damaged. This step is crucial as it allows us to tailor our approach to your floor's specific needs.
Next, we begin the sanding process. This step removes the old finish and smooths out any imperfections, revealing the raw wood beneath. We use advanced dust containment systems to keep your home as clean and dust-free as possible.
Once the floor has been sanded, we apply a stain. We have a wide range of colors and finishes to choose from, and we'll work with you to choose the one that best suits your style and your home's aesthetics.
The final step is to apply a protective finish. This seals the wood and protects it from damage, ensuring your floors stay beautiful for years to come.
But our job doesn't end there. We also provide detailed instructions on how to care for your newly refinished floor. We believe that a well-informed client is a satisfied client, and we want to ensure you have all the tools you need to keep your floors looking their best.
Refinishing your hardwood floors can significantly improve the look of your home, increase its value, and save you the cost of installing new floors. If you're in Tucker and considering a floor makeover, don't overlook the potential that lies in your current hardwood floors.
Schedule a FREE Onsite Consultation
At David's Hardwood Flooring, we take pride in our work, and we strive to exceed our customers' expectations in every job we do. We understand the value and importance of your home, and we treat every project with the respect and attention it deserves.
For more information about our hardwood floor refinishing services in Tucker, or to schedule a consultation, please call us at (470) 705-6478. We're here to help you rediscover the beauty of your hardwood floors. Let us help you transform your house into the home of your dreams.
How to book?
Four Easy Steps
Contact Us
We will schedule your on-site quote when it is convenient for you and least disruptive to your schedule!
Onsite Visit
We present you the quote, after our specialist visit your place
Start
We can start a service within 24 to 48 hours after presenting the quote!
Guarantee
1 year full guarantee for our services!
Schedule a FREE Onsite Consultation