Revive Your Home's Beauty with Our Hardwood Floor Repair in Roswell
At David's Hardwood Flooring, we understand that your home's hardwood floors are a significant investment and a crucial element of your home's aesthetics. That's why we're dedicated to providing expert hardwood floor repair services to homeowners in Roswell, ensuring that your floors remain beautiful and durable for years to come.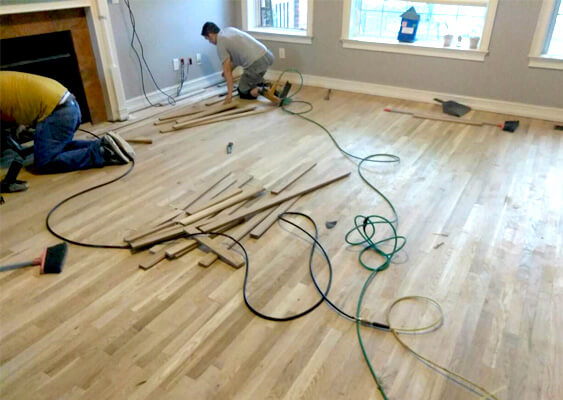 Over time, hardwood floors can suffer from various types of damage, such as scratches, dents, water damage, or warping. Our experienced team is well-equipped to assess and address a wide range of hardwood floor issues, employing professional techniques and high-quality materials to restore your floors to their original beauty. Our repair process is designed to be efficient and minimally disruptive, allowing you to enjoy your revitalized floors as quickly as possible.
In addition to repairing localized damage, our skilled technicians can also help you address more extensive issues, such as uneven or squeaky floors. We'll work with you to develop a tailored plan that addresses the underlying cause of the problem, whether it's due to subfloor issues or structural concerns, and provide a lasting solution to ensure your floors' stability and longevity.
Schedule a FREE Onsite Consultation
Choose David's Hardwood Flooring for your hardwood floor repair needs in Roswell, and trust in our expertise, professionalism, and dedication to customer satisfaction. Contact us at (470) 705-6478 to discuss your hardwood floor repair project and explore the extensive range of home improvement services we offer. Our devoted team is ready to provide personalized solutions, expert guidance, and exceptional customer care, ensuring a successful outcome for your hardwood floor repair needs. Depend on David's Hardwood Flooring for unparalleled quality and service in the Roswell area.
How to book?
Four Easy Steps
Contact Us
We will schedule your on-site quote when it is convenient for you and least disruptive to your schedule!
Onsite Visit
We present you the quote, after our specialist visit your place
Start
We can start a service within 24 to 48 hours after presenting the quote!
Guarantee
1 year full guarantee for our services!
Schedule a FREE Onsite Consultation