Back to Brilliance with Remarkable Hardwood Floor Repair in Mableton
Mableton folks, rejoice! Your quest for exceptional hardwood floor repair ends here at David's Hardwood Flooring. As our name suggests, we're the hardwood floor maestros you've been seeking to breathe new life into your beloved floors. From minor scratches to major damage, we've got the skills and finesse to make your hardwood floors shine like new once more.
Hardwood floors have a timeless elegance and charm that's tough to beat. But, like everything else, they're not immune to the wear and tear of everyday life. Scuffs, scratches, and dents can dull their luster, leaving you yearning for the glory days. That's where we come in, swooping in like hardwood floor superheroes to save the day!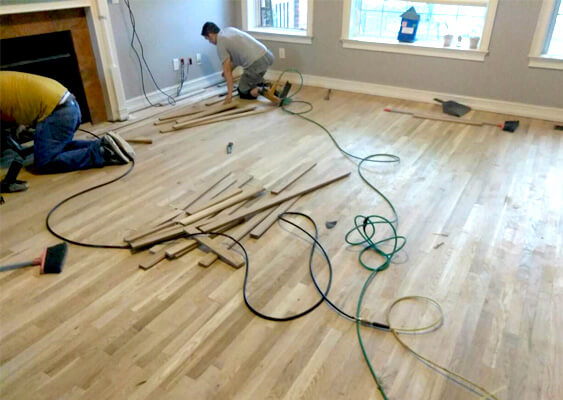 Our team of floor restoration wizards is well-versed in the art of hardwood floor repair. We'll assess the damage and devise a plan to restore your floors to their former glory. From refinishing to board replacement, we've got the tools and talent to tackle any challenge that comes our way.
When it comes to refinishing, we're all about precision and perfection. Our experts will sand, stain, and seal your floors with the utmost care, ensuring a stunning finish that'll leave you speechless. We'll even help you choose the perfect stain color to complement your home's aesthetic – we're all about going the extra mile to make your hardwood floors dazzle!
But what if your floors are facing more extensive damage? Fear not – our skilled crew is equipped to handle even the most daunting hardwood floor repair tasks. We'll meticulously replace damaged boards, ensuring a seamless match with your existing floors. With our expert touch, your hardwood floors will look as good as new in no time.
We understand that hardwood floor repair can be a significant investment, and we're here to make it as painless as possible. Our competitive pricing ensures you won't have to break the bank to enjoy pristine hardwood floors once more. With our commitment to quality and customer satisfaction, you can trust us to deliver the goods without any hiccups.
Schedule a FREE Onsite Consultation
So, Mableton residents, are you ready to rediscover the beauty of your hardwood floors? Give us a call at (470) 705-6478 and let David's Hardwood Flooring work its magic. With our unparalleled expertise and dedication to your satisfaction, you'll be reveling in the splendor of your hardwood floors in no time!
How to book?
Four Easy Steps
Contact Us
We will schedule your on-site quote when it is convenient for you and least disruptive to your schedule!
Onsite Visit
We present you the quote, after our specialist visit your place
Start
We can start a service within 24 to 48 hours after presenting the quote!
Guarantee
1 year full guarantee for our services!
Schedule a FREE Onsite Consultation