Transform Your Home with Professional Hardwood Floor Repair in Decatur
David's Hardwood Flooring is a leading expert in hardwood floor repair services in Decatur, providing top-notch solutions to restore the beauty and functionality of your floors. Over time, hardwood floors may suffer from scratches, dents, water damage, or other forms of wear and tear, detracting from their aesthetic appeal and structural integrity. Our team of skilled professionals is dedicated to addressing these issues and returning your hardwood floors to their former glory.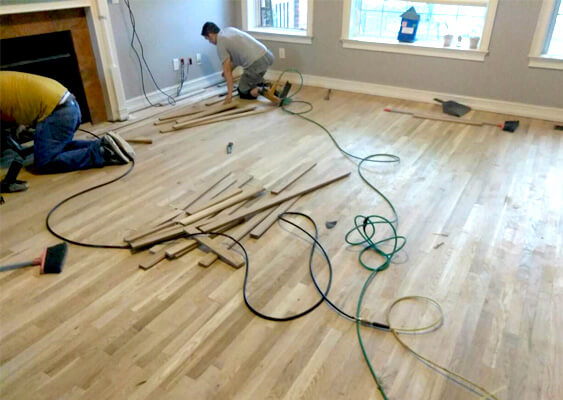 Our hardwood floor repair process at David's Hardwood Flooring begins with a comprehensive assessment of your flooring's condition. We carefully examine the extent of the damage and determine the most effective repair methods, taking into consideration factors such as wood species, finish, and the age of your floors. Our experienced technicians will then skillfully perform the necessary repairs, which may include sanding, staining, refinishing, or replacing damaged boards.
Our commitment to excellence is evident in every hardwood floor repair project we undertake. The team at David's Hardwood Flooring utilizes industry best practices, high-quality materials, and state-of-the-art tools to deliver exceptional results. Our skilled technicians are well-versed in local codes and regulations, ensuring that all repairs are performed to the highest safety and quality standards. With our meticulous approach, you can trust that your hardwood floors will be revitalized and look their best once again.
Schedule a FREE Onsite Consultation
If you're in need of hardwood floor repair services in Decatur, trust the experienced professionals at David's Hardwood Flooring to provide the high-quality solutions you deserve. Our dedication to customer satisfaction and unparalleled workmanship ensures that your investment in our services will yield impressive results. To schedule a consultation or for more information about our hardwood floor repair services, call us today at (470) 705-6478. Let David's Hardwood Flooring rejuvenate your floors and restore the beauty and elegance of your home.
How to book?
Four Easy Steps
Contact Us
We will schedule your on-site quote when it is convenient for you and least disruptive to your schedule!
Onsite Visit
We present you the quote, after our specialist visit your place
Start
We can start a service within 24 to 48 hours after presenting the quote!
Guarantee
1 year full guarantee for our services!
Schedule a FREE Onsite Consultation